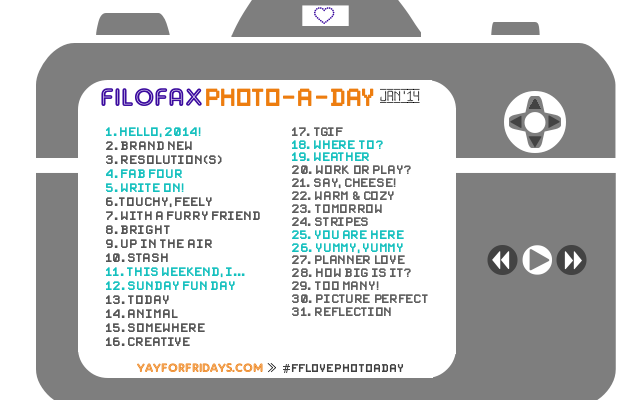 Hello, hello! It's that time again! About a year ago, I was putting together the very first Filofax Photo-a-Day Challenge. I'm thrilled at how everyone has taken to it and am glad to present you with another to kick start 2014! As a way to celebrate the new year and the Filofax Photo-a-Day Challenge 1 year mark, I wanted to do a mini (and my first ever) giveaway!
Though the photo-a-day challenge is open to all Filofax/Planner lovers, the giveaway is for my Instagram users ONLY. I do apologize for this if you're not on Instagram, but it's not too late to join, and it's FREE!. And, if it's any consolation, there will be other kinds of giveaways to participate in in the future, so definitely look out for those!
If you are on Instagram, participating in January's Filofax Photo-a-Day Challenge, and would like to enter the giveaway, here's what you'll need to know.
How to Enter
---
Simply post your photo onto Instagram as you normally would for January's first prompt, "Hello, 2014!" Remember, it's a Filofax/Planner related photo challenge. I'm looking for those yummy planners and, for giveaway purposes, some extra creativity! As always, don't forget to include the hashtag #fflovephotoaday so I know you're participating in this months challenge. You MUST also include the hashtag #yayforfrigiveaway on the first prompts photo as this is the only way I'll know which pictures to pull and pick a winner from. That's it. Easy peasy!
Some General Rules
---
Open to all Instagram users in the US.
Follow Yay, for Fridays! on Instagram (@yayforfridays).
Must participate in January's Filofax Photo-a-Day Challenge.
Here's What You'll Win
---
The winner will receive a brand new Open Top Craft Tote by Mackinac Moon. It's great for storing all your crafting supplies or Filofax/Planning tools or BOTH. I have one of these and absolutely love it! I have all my planning necessities (clips, post-its, pens, highlighters, tapes, stickers, etc.) all in one easy to carry tote. My Filofax even fits nicely in the middle compartment so I can take my "office" with me wherever I go.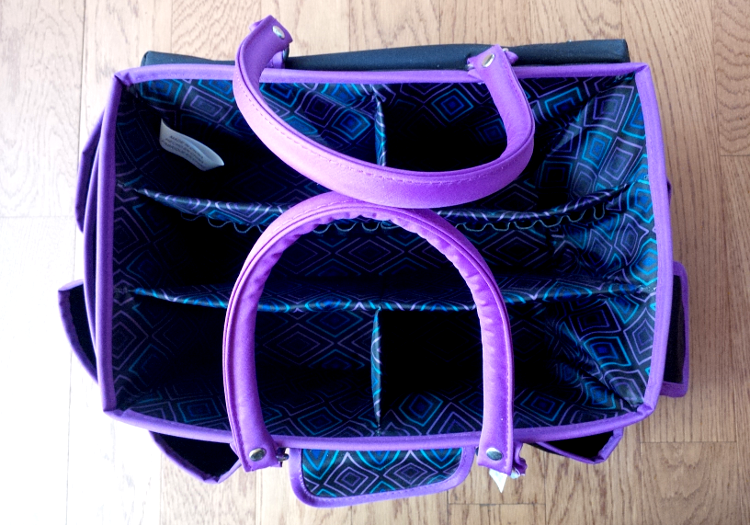 ---
I'll be picking the top 10 photos for January's "Hello, 2014!" prompt and, from that 10, will pick the winner using Random.org. The top 10 photos and winner will be announced on Friday, January 31st, on Instagram and here on the blog. Got questions? Don't hesitate to ask. Good luck, have fun, and happy snapping!