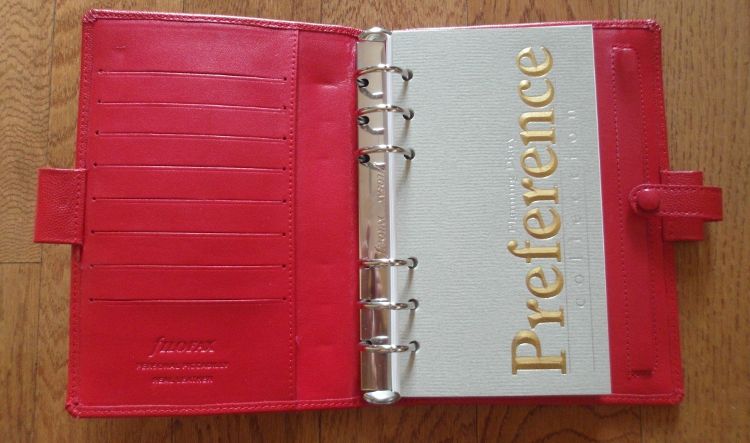 As far as my diary pages go, I've been quite content using the Personal Week On Two Pages Cotton Cream from Filofax. The weekly layout works well with my organizational needs, I like that the days are spread out evenly, and the paper quality is pretty good. Well, as far as Filofax paper goes, at least. But, I'm always on the lookout for something better. So, when I saw these diary inserts at a local stationery store, I was curious to try them out.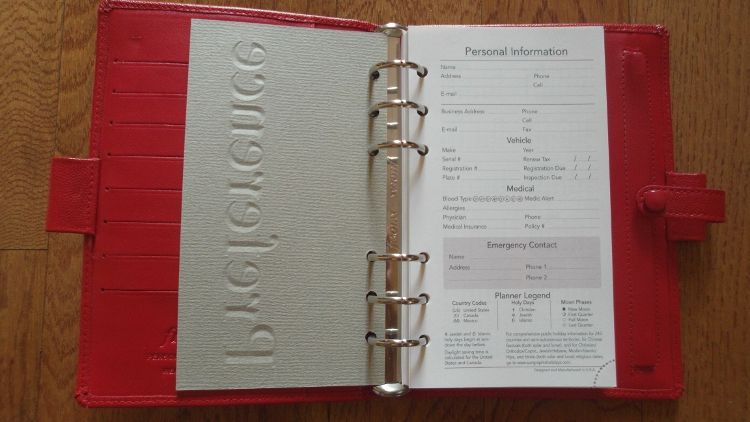 These inserts are from the Preference Collection and are equivalent to Filofax Personal size inserts. Not much to rave about in terms of packaging. Just the refills wrapped in clear plastic. Your typical flyleaf over a cover page with the Preference Collection name embossed in gold lettering is what you'll start off with. Behind that, a Personal Information sheet complete with all the necessary sections for jotting down, well, your personal information--Vehicle, Medical, Emergency Contact, etc. I usually never use these pages.
Next are some nice year-at-a-glance calendars for 2013, 2014, and 2015. I love the simple design of these. Great for referencing future dates.
Following the year calendars is the start of the Month on Two Pages diary beginning with December 2013. Again, the simple design. The weeks start on Monday with Saturday and Sunday bunched up together in one column. Not a big fan of this as I like all my days spread out evenly, but I probably won't be using these pages anyway as I already have a monthly calendar that I'm set on using.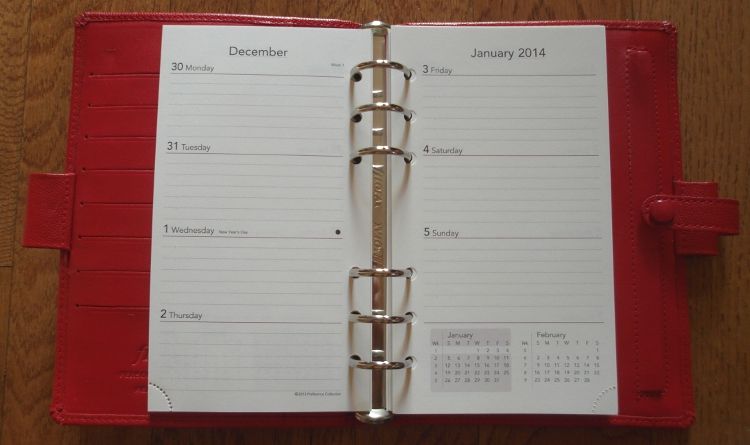 The Monthly pages are followed by a Week On Two Pages diary, starting the last week of December 2013. This is the meat of the inserts and what I am most interested in. Unlike some diary pages where the weekends have shorter spaces than the rest of the week, each day is spread out equally through the pages. My weekends are just as busy as my week days so this is a definite must for me. I like how the pages are lined which really helps me to keep things nice and neat, and I especially love the little to-do/list section in each day. I failed to capture this in the photos, but there is definitely a marked section you can use as check boxes when crossing off daily tasks. This is most helpful as I usually split my columns in two so that each day of the week has an area for me to note important tasks. There's also the current and next months calendar at the end of the week for referencing. You'll also notice the page corners are perforrated, allowing you to mark your place.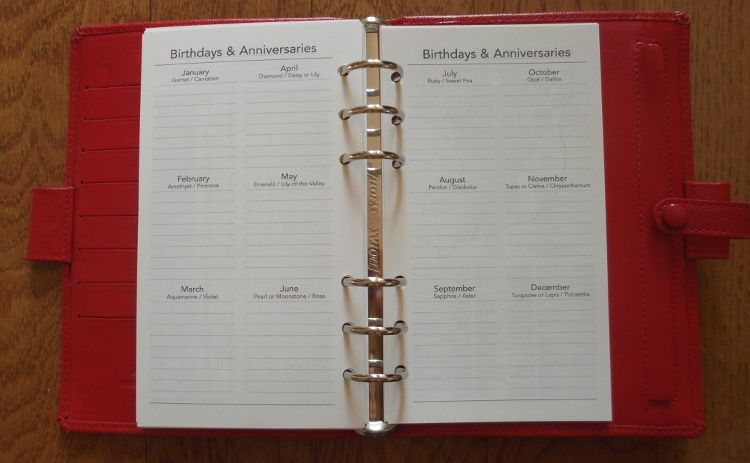 After the weekly pages, there's a handy 2015 Year Planner for future planning and a Birthdays & Anniversaries section which is pretty self explanitory.
Some informaion sheets are included as well such as a list of Important Dates, International Holidays, International Dialing, and Area Codes and Time Zones. I personally toss these out right away as I don't find them useful.
And, finally, a few sheets of lined note paper followed by a page with information on how to order refills for the following year. The website address listed on one of the information pages will link you to SunGraphix where you can order refills from the Preference Collection. Apparently the Preference brand includes organizers and organizer refills for both wire-bound and ring-bound agendas.
I can't speak for their entire line, but I can say I am very happy to have run into these diary pages. The weekly pages are what I plan on using for 2014. Have you already decided on which diary format you'll be using for the coming year? There's less than five more days to decide!