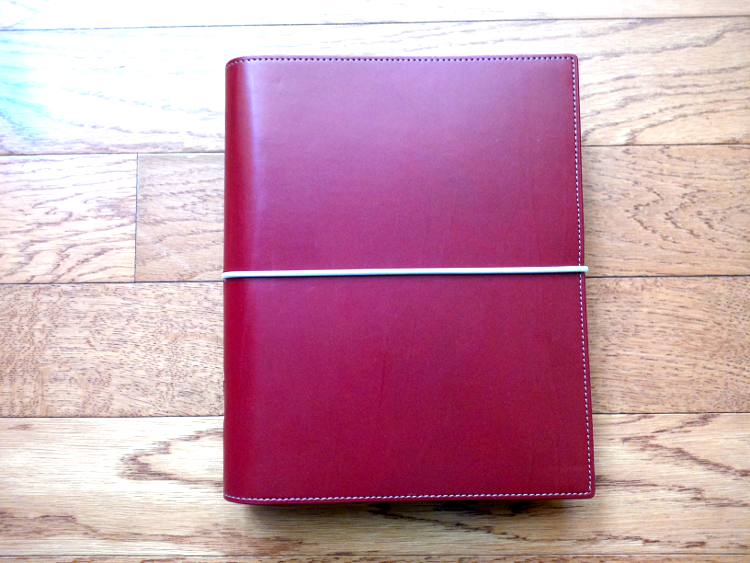 Yep, I've done it again! Succumbed to the "A5 itch" and purchased this red Domino. Now, why on earth would I do that when my personal size Filofaxes have been working out just fine? Why mess with a good thing? And, we all know how my previous attempts at upgrading from a personal to an A5 worked out. They didn't! Yet, here we are. But, I have my reasons. You know, to help you better understand where I'm coming from. And partly to make me feel better. Okay, mostly to make me feel better.
With baby #2 on the way, the extra planning space will be very helpful.
As a stay-at-home mom, my work centers around my family and the home. So, for the most part, my Filofax rarely leaves the house. Therefore, portability wouldn't really be an issue with the A5 like I thought it would be as I probably wouldn't be taking it anywhere with me.
I wanted it.
Those are pretty reasonable justifications as to why I needed another Filofax, right? Right?
So, I'm giving the A5 another chance. Only this time, I'm a bit smarter in that I didn't run out all willy-nilly and purchased an expensive binder. Although, I have to admit that I was thiiis close to hitting the "checkout" button, and purchasing a gorgeous Yellow A5 Original. And all the way from the UK no less! I won't even say how the estimated total was what with shipping and all that. But, I did good and held back. Having had the A5 Malden before (there may have also been an A5 Finsbury, and an A5 Holborn, too...) only to have to sell it in the end, I decided that, only until I know for sure that the A5 is working out will I invest in a Filofax that I truly like. And, surely there'll be more A5's to choose from in the coming years as new ranges come out. For now, the Domino will have to do. At least, for this little experiment.
If you ask me, I think the Domino is a very understated binder. Like all the other ranges, it has its fans, I'm sure. But, I think it's one of those Filofaxes you have to see and test out in person to truly get. And, even then, you might find it's not for you. It's made of smooth PU material, not leather, and is quite stiff. It doesn't have that squishy quality some people love in their planners. The inside is made of a grayish, suede like material. Nothing fancy about its cover and overall style, either. Not to mention, it doesn't even have a strap. Just an elastic band that's meant to hold everything together.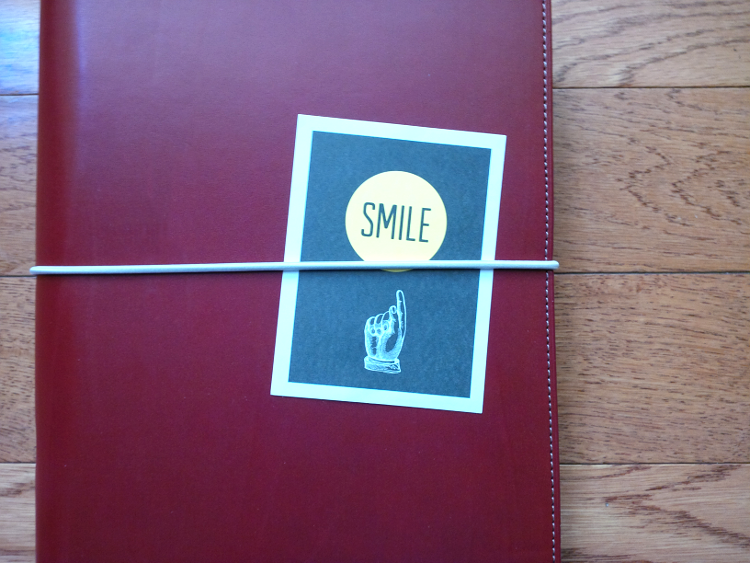 Yet, surprisingly, I quite like it. I like the sleek design and the simplicity of it. The internal set up (two elasticated pen loops, 30 mm rings, pocket options, etc.) are all quite satisfactory. But, what surprised me most, and what I particularly like about the Domino is that it's very light weight. I'm sure a lot of it has to do with the material (or lack of material?) that it's made up of. Having had experience with previous leather A5 Filofaxes, I noticed that the Domino feels much more lighter even when filled. And, let's not forget those big rings that call for filling up! I think the A5 Domino would be a good one to consider for those who love to carry their planners with them everywhere. With this Filofax, you won't need to sacrifice portability (or throwing your back) as this one won't feel too heavy in your bag. Though this Filofax will remain at home, it's nice knowing that I have the option of taking it with me if I needed to.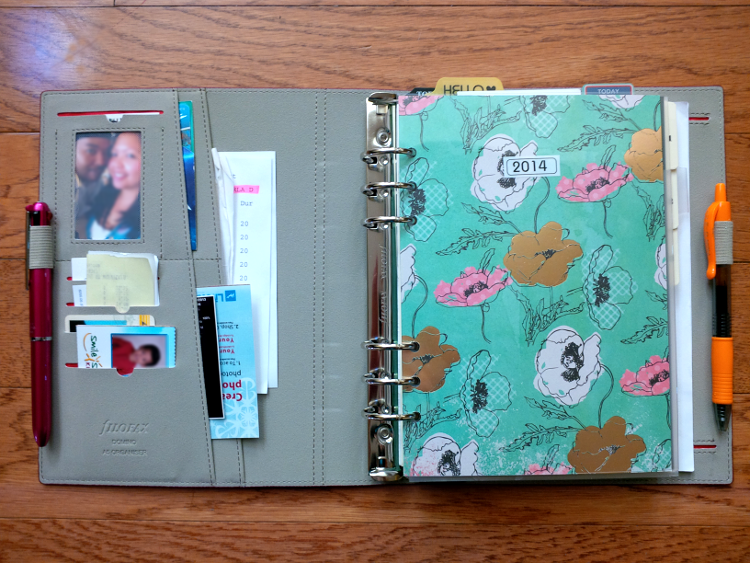 I'm excited to say that mission "Movin' On Up (Part Deux)" is in full swing. So far, the transition has been smooth, but I don't want to say too much as I've only just received the Domino and am still setting it up in a way that will work for me. Everything's all thrown together at the moment as you can see. I'm looking forward to see how this Filofax developes over the next few days--weeks, months, years maybe?--assuming, of course, everything works out. And I so want it to work out. I guess we shall wait and see...