Van der Spek (VdS) is a company that produces planners and other leather goods. I heard very little about them until I joined the Van der Spek Organiser Fans Facebook group out of curiosity. Of course, being the Plannerd that I am, once I saw some of the gorgeous photos of VdS planners posted in the group, I was immediately hooked. I was particularly drawn to the idea of designing my own organizer which happens to be one of the products that Van der Spek offers--a specially made, customizable planner. Seriously? Yes, please!
With the help of Petra Van der Spek whose family owns and runs the company, I began the ordering process. It was fairly easy thanks to her awesome customer service. She was very kind, informative, and responded to my e-mails very quickly considering what a busy woman she is. Probably the most difficult thing in the entire process was the actual choosing of the leathers and customization options. One could easily get carried away or, in my case, overwhelmed with it all. There are a multitude of leathers to choose from in different colors, prints, and textures. Depending on the size of your planner, there is also ring size and hardware color (silver or gold) to decide on, as well as what color stitching you'd like to use to put everything together. And if you're willing to shell out just a bit more for your planner, you can also add things like an extra pen loop, a zippered pocket, leather flyleaf, and/or even configure your planners interior pocket layout. Now, do you see why I was a bit overwhelmed?
Anyway, here she is--my custom organizer!

This is the A5 Manager which is similar in size to a
Filofax
A5. For the exterior I chose the brown ostrich print, dark blue nappa leather for the interior, and matching dark blue stitching throughout. I like to call this blue "the perfect shade of Navy"--it's neither too dark or too light. The blue stitching against the brown is subtle yet effective and goes quite nicely together. Its popper is gold as well as the 35 mm rings it's fixed with which I absolutely love against the dark blue. The Ostrich is textured so that you can feel the bumps, and the nappa feels just
divine
. Very soft!
Right out of the box, the planner lays flat as a pancake. This has a lot to do with how the planner is constructed. There is also an option to forgo the stiffener they use in the cover. If you want a more flexible,
Malden
-esque binder, definitely go without the stiffener or go with an in-between type of material which is also an option. I decided to keep the stiffener. With it, the planner has just the right amount of structure I need without it being too rigid. Don't get me wrong, I love a floppy binder as much as the next person, but I prefer my A5's a bit structured. I'm quite happy with my decision because look at those clean lines!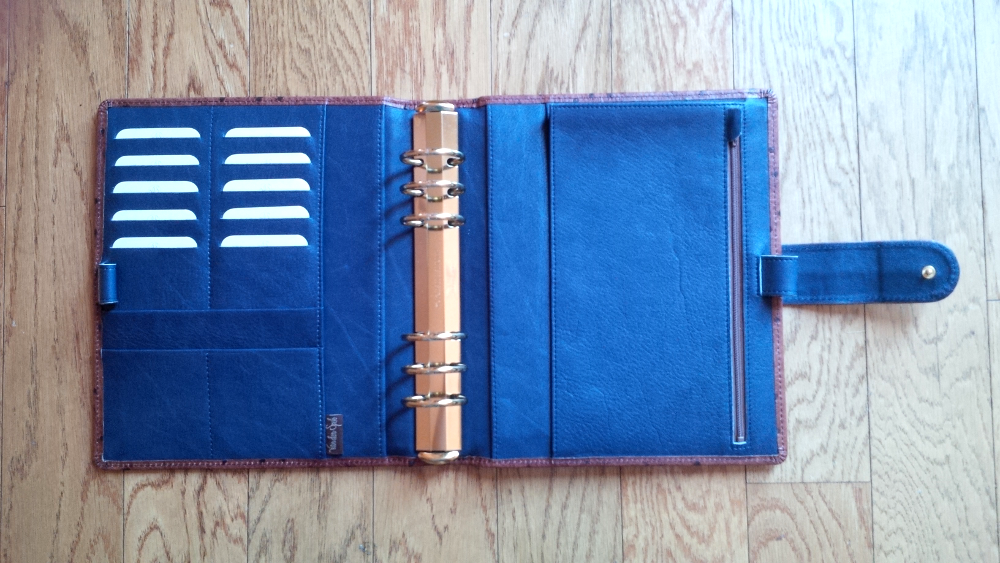 Though I have seen others who have also customized the inside pockets of their VdS, I opted to go with the A5's standard layout. On the left hand side there is the (extra) elasticated pen loop, a total of 10 card slots, a wider pocket immediately below them, another two pockets under that one, and a full length slip pocket behind it all. And on the right, a large gusseted pocket, zip pocket, and the second elasticated pen loop. At my request, and at no added cost, Petra was able to get the pen loops slightly enlarged to ensure my pens would fit. How awesome is that? It's the little things, I tell ya!
The craftsmanship of this organizer is simply superior. You can tell that someone put a lot of hard work and attention to detail on this planner--something I'll appreciate everytime I use it.
Overall, I am beyond happy with my purchase. A custom made Van der Spek will cost you anywhere between $100 to $300 depending on the size of planner and any additional customization options you decide on. You might say that's a pretty big price tag for a planner,
BUT
I really think it's a fair price to pay for a
customized
one. You're definitely getting your money's worth in that you're getting not only the planner of your dreams, but one that's crafted so well. That's worth every penny, if you ask me. And to think of all that money wasted on past planners that just didn't make the cut! But, I digress. I'll save that for another post.
I would highly recommend a Van der Spek to any planner enthusiast. It's definitely a company worth checking out at least. You can even play around with the different leather combinations with their new
customization tool
here
. Don't forget to "Like" the
Van der Spek Facebook page
, and request to join the
Van der Spek Organiser Fans
group. There you'll find details on the different Van der Spek planners, prices, all the different customization options, how to contact Petra and place your order, and loads of other helpful information. Everyone there has been wonderful. Not to mention enabling--all of them! But, you've been warned. :)