Planner Love is a planner line created by Franklin Planner, and paper company My Mind's Eye. The collaboration debuted last year with three all new collections--Coral, Gold, and My Story--which included an assortment of planners, and matching accessories. Lots of cute, tons of fun!
So, when Franklin Planner reached out to me and asked if I would like to do a review of some of the new additions to this years Planner Love line, I couldn't resist. You mean, I get to play with a new binder, new inserts, and pretty accessories? YES, PLEASE!
Anyway, I received the goods in the mail last week and, let me tell you, there was so much pretty to be had, I didn't know where to start. But, I had a couple of days to look (translate: "ooh", "ahh", and "squeal") over everything, and now, here it is--the first look! To prevent having to read a lengthy review, I've written a separate post for the inserts here. For this post, we'll be taking a quick look at the binder.
Compact users can rejoice because Planner Love is now available in Classic (5.5" x 8.5" inserts) and Compact (4.25" x 6.75" inserts). The line introduces us to two new collections--Botanicals and On Trend--with four new binders in Pink Confetti, Ivory, Today (a two toned binder), and Navy. All four binders coordinate beautifully with either of the two collections so you can definitely mix-and-match things up to your liking and style.
I was given the choice of which binder to review so I went with the Compact binder in Navy. I read "Navy" and couldn't pass it up. And, yes, it looks black, but I assure you that it's a nice, dark shade of blue. The Compact measures out to 6.5" x 7.75" x 2". For those unfamiliar to the brand, the 6-ring configuration of the Compact binders will accommodate personal size inserts as well, so you can definitely join in on the fun.
All the new Planner Love binders are made of simulated patent leather. I must have forgotten how shiny patent leather is because I had a bit of a challenge taking pictures of it without capturing my reflection. I'm no expert photographer here, so don't mind my face and/or phone showing up on some of these pictures. Also, the patent is prone to collecting fingerprints so I would definitely keep that in mind. Prints and smudges are probably more or less noticeable depending on which color binder you choose.
I like the round spine, and the clean lines this binder has. There's a bit of "puffiness" to the cover because of the patent, and I would say that it's a fairly structured binder. It doesn't quite lay flat right away. But, there is some give to the cover, so it does have the potential of becoming more flexible with use. In fact, after a bit of training, I was able to lay it wide open.
I love the gold hardware against the dark Navy. The little heart stud on the right corner of the cover is just the right amount of detail for the overall simple exterior design. The Compacts gold rings measure out to 1". They are fixed with hex screws so they do appear to be removable in case they need to be replaced. The binder closes with a magnetic strap. I personally prefer a snap closure but, surprisingly, the magnet seems pretty strong.
The interior appears to be where all the fun is. The binder has a polka-dot print lining which I think adds a bit of "pop" to the insides, especially against the darker Navy. On the left there is an elasticized pen loop, an outward facing secretarial pocket, and three card pockets. On your right, you get a second elasticized pen loop, a deep notepad pocket, and the Franklin Planner + My Mind's Eye Planner Love logo.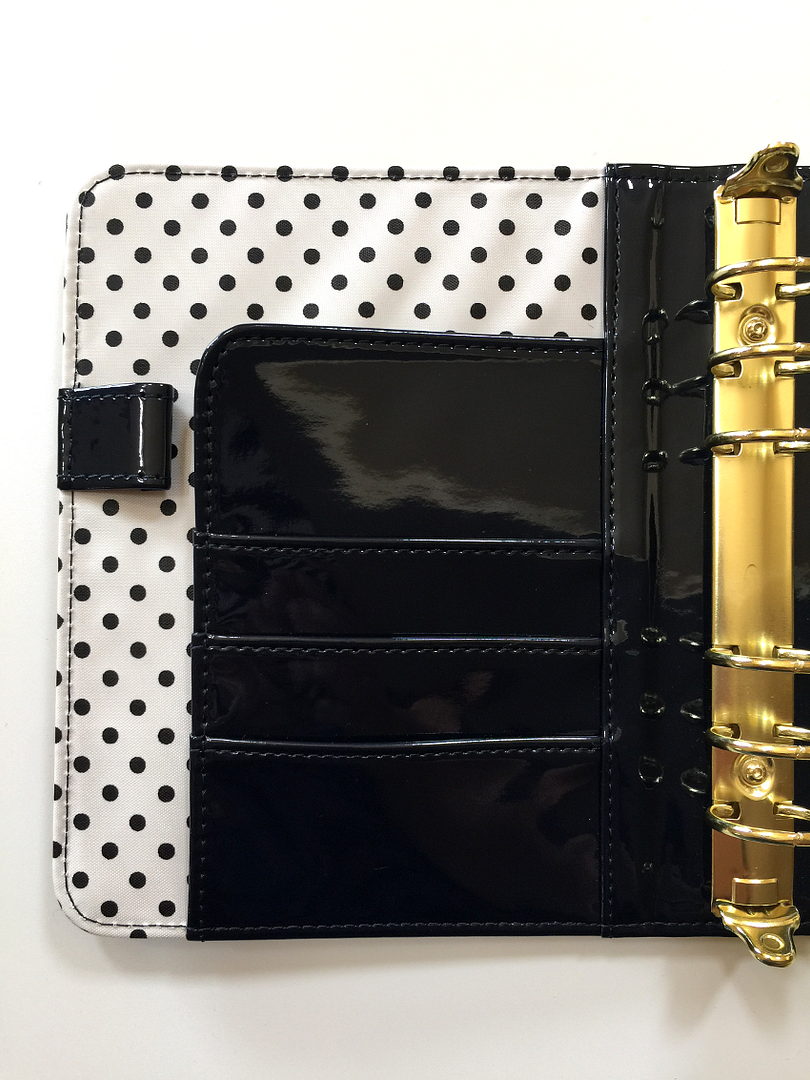 After our little "photo shoot", I immediately transferred everything from my current planner into the Planner Love binder. I wanted to get a good idea of how it looked with my set up, and how the inserts fit in it. It fits nicely in my hands. Not at all too big, or bulky, and I also like how lightweight it is even with its 1" rings filled to capacity.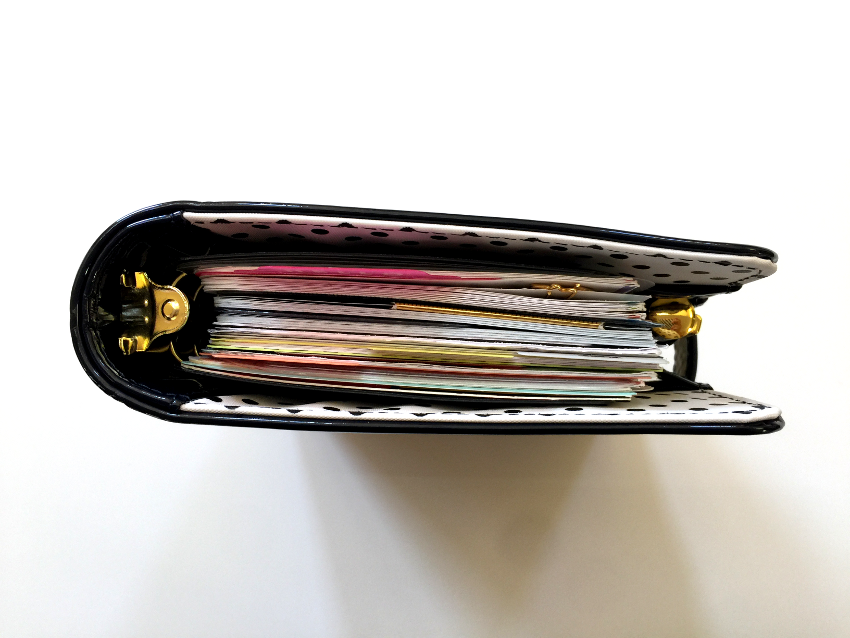 The pen loops are very generous. My favorite pen which has a fairly chunky barrel had no issues sliding into the pen loop. The same goes for all my 5 color multi-pens. At 6.5", the binder is made pretty wide even with the wider Franklin Planner inserts. There is more than enough space for pens to sit inside of the binder without interfering with your pages or the strap when closed. The strap is descent in length, and houses all my inserts quite comfortably. But, I find it is rather difficult to close the planner with a pen in each pen loop.
Overall, I think it's a very pretty binder that can be used as more than just a planning tool. I can totally see this as a spiritual binder, or maybe an inspirational journal to house all your dreams and goals. Or maybe you just want something fun and different to take to school or even work. Tons of possibilities with this one. And with all the accessories to go with it, it just calls for some creativity and fun.
I've taken a look at the inserts in a separate blog post and will be sharing some of the other accessories from the Planner Love line on Instagram, so be sure to check out those posts as well. Franklin Planner is also giving an awesome 20% off your next order by using the promo code FRIDAY at checkout. The promo is only good until October 12, 2016, so you definitely don't want to miss out.
I'm so grateful to have had this opportunity. Thank you, Franklin Planner!
♥